"Magic must defeat Magic!"
— Uncle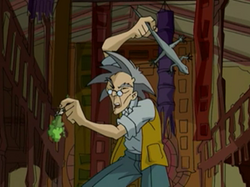 Magic
is a supernatural art that appears to be an acquired skill. The people who use it are known as "wizards" and "sorcerers" (or "witches" and "sorceresses", if female). Science and technology, no matter how advanced, can not defeat it.
Notable Magic Users 
Chi Master Fong - Uncle's teacher.
Daolon Wong - Dark chi wizard. Responsible for the death of Master Fong.
Demon Sorcerers - Each possesses a form of magic based around manipulating a certain element.
Drago - Shendu's son.
Elves - Possess their own brand of magic
Jade Chan - Suprisingly adept at the art, despite her lack of training and education (most likely due to it being off-limits to her).
Jimmy - Dark chi wizard, Tohru's apprentice.
Lo Pei - Sacred warrior of the Ling Dynasty.
Magisters - Uses medieval magic.
Oni - Demons who use Japanese magic.
Santa Claus - Possesses potent good chi.
Shendu - One of the most powerful demon sorcerers in history.
Tohru - Uncle's apprentice.
Uncle - Spent many years training under Master Fong to gain his mastery of magic.
Known Types of Magic
Chi Magic - A kind of magic that specializes in the manipulation of Chi aka the natural life force of living beings. It is split into good and dark sides. This magic requires ingredients and chants to cast spells.
Dark Magic - Magic that comes in various forms like dark Chi magic.
Good Magic - Magic that comes in various forms like good Chi magic. Bad magic cannot touch good magic without harm.
Scroll Magic - A special type of magic that relies on the use of enchanted scrolls and seals. Different scrolls can have different effects.
Shadow Magic - The magic used by the Shadowkhan. It can allow for instantaneous travel by accessing the Shadow Realm. Accessible through the use of dark magic.
Sorcery - A very powerful kind of magic known to Demon Sorcerers that allows for the manipulation of nature and the elements themselves. Humans who have mastered this powerful art often wear robes signifying their power.
Talisman Magic - Potent magic which empowers both the Talismans and the Noble Animals.
Theater Magic - A special kind of magic used by theater performers which allows individuals wearing a certain type of makeup to walk through walls.
Known Magical Artifacts
Known Magical Symbols
Mark of Tarakudo - A symbol of Tarakudo's face. When used as a tattoo, it allows the user to summon Shadowkhan without a mask, but it turns them evil.
Known Spells and Incantations
Community content is available under
CC-BY-SA
unless otherwise noted.