About Jackie Chan Adventures
Jackie Chan Adventures is a Chinese-American animated television series chronicling the adventures of a fictionalized version of action film star Jackie Chan. There are numerous references to Jackie Chan's films and his own life throughout the series. The series ran on Kids' WB! from September 9, 2000 to July 8, 2005 for a total of 95 episodes and 5 seasons. It was also shown on Cartoon Network and Disney XD. Books, comics, and two video games were released to accompany the series. Its main character designer is Jeff Matsuda.
About this Wiki
Jackie Chan Adventures Wiki was created on June 15, 2008 by User:Avatar Sanders. It was adopted on September 12, 2014 by User:ShonenChicoBoy, and its main admin is User:Darth Ozric. Currently, it has more than 380 pages, 1,000 images, 10,000 page edits, and 85 authenticated users.
Disclaimer
Jackie Chan Adventures and its trademarks are the intellectual property of Adelaide Productions and its parent company Sony Pictures Television. This wiki is in no way affiliated with said company and is purely for non-commercial and personal use. Anyone is free to use information from this site, as long as you do not use that information by plagiarism or use it illegally in any way that infringes on the trademark. If you do copy text, it is requested that you provide a link to the website or web page. The operation of this website is believed to fall under the United States "fair use" copyright laws. This site is not official whatsover and takes no part in production of either series. Advertising on Wikia is sold by Wikia Inc., and is not an endorsement of the products by Adelaide Productions, Sony Pictures Television, this wiki or its volunteers. To report an inappropriate advertisement, please contact Wikia Inc. directly using the contact form.
Featured Episode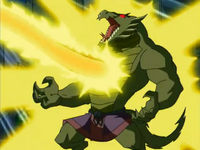 Re-Enter the Dragon is the sixty-seventh episode of Jackie Chan Adventures and the fifteenth episode of Season 3.

Main Article: Re-Enter the Dragon
Featured Character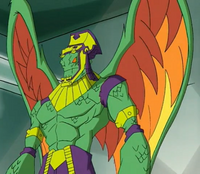 Quetzalcoatl is the mythological Mesoamerican god of the sun, sky, and agriculture, who resembles a humanoid with reptilian features, massive wings, and dressed in Mayan attire.

Main Article: Quetzalcoatl
Featured Object
The Druid Stone is an ancient and magical artifact that, when used in conjunction with a radio telescope and satellite network, is powerful enough to threaten the whole world.

Main Article: Druid Stone
Featured Quote
"Jackie! Listen to me! I don't work for Shendu, and neither do you! Demons don't rule the world, humans do! The demons were banished into the Netherworld by the Eight Immortals a long time ago. Then they got out, and we banished 'em again. But Shendu possessed you, found this magic book, changed the past, and now none of that ever happened!"

― Jade Chan to Jackie Chan in Demon World (Part 1)
Did You Know...
...that the frequently used incantation "Yu Mo Gui Gwai Fai Di Zao" is Cantonese for "Spirits, demons, ghosts, monsters, quickly leave" (妖魔鬼怪快啲走)?
...that according to the real life Jackie Chan, the character of Uncle was based on both Charles Chan and Willie Chan, his father and manager respectively?
...that although the show's intro sequence features a shot of Jackie running down an Egyptian pyramid, Jackie never once visits Egypt in the show?
...that Jade Chan coincidentally shares the same surname as her voice actress, Stacie Chan?
...that according to John Rogers, the character of Jade was originally intended to be Captain Black's daughter before the show got permission to make her Jackie's niece?
...that Uncle, who does not understand Japanese, is ironically voiced by Japanese-American actor Sab Shimono?