Relics of Demons Past is the sixty-seventh issue of the comics.
Contents
The J Files
Manga Master
Jackie's A-Z
The A to Z of Jackie Chan Adventures - K
Demon Zone
Hindu Holies and Horrors - Rudra, Ganesh, Vritra, Kalki
Weird World
Spy Search
The J-Team
Puzzle Quest
How smart are you?
Enforcer Facts
One More Thing
Poster
Free Gifts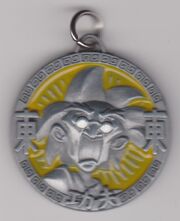 Community content is available under
CC-BY-SA
unless otherwise noted.