Re-Enter the Dragon! is the fifty-second issue of the Jackie Chan Adventures Magazine.
Contents
The J Files
Manga Master
Martial Arts
Secrets of the Martial Arts - W
Demon Zone
Magic Germanic Gods - Grendel, Dark-Dwarves, Skrymir, Jormungand
Weird World
Manic Myths of the British Isles
Spy Search
The J-Team
Dragon River Rumble Part 2
Puzzle Quest
How smart are you?
Henchmen Rivalry
One More Thing
Poster
Free Gifts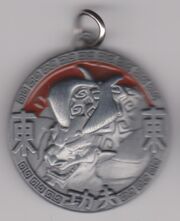 Community content is available under
CC-BY-SA
unless otherwise noted.