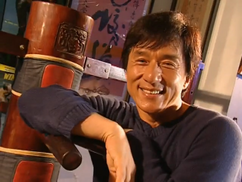 Hey, Jackie... is a live-action segment of Jackie Chan Adventures that follows after the end of every episode. It features namesake of the series Jackie Chan, who is presented each time with a question (read out by Stacie Chan) from a typically young viewer of the show.
#
Episode
Question
Asker
1
The Dark Hand
What inspired you to make this TV show?
Adrian, age 11
When I was young I always liked cartoons! I really hoped that someday I would be a cartoon character. Cartoons can do all kinds of things that I cannot do in my real life. After so many, so many, so many years later, the people, the children still can remember me. Today, my dream has come true. I love cartoons!
2
The Power Within
Why do you do all your own stunts in your movies?
Eric, age 11
I was doing stunts for so many years. The audience see the actor or the bad guy, they do all the stunts, then the audience just claps. Then, I look at my friends, "Hey, that's not the actor, that's me!" Then I promised myself, "One day when I become a star I will do my own stunts." I will turn around and let the audience see that's me, that's not a double. And also, I want to show my children, my grandchildren, "Look, that's your grandfather! That's your father!" And besides, I just like it.
3
The Mask of El Toro Fuerte
How do you keep in shape?
Adrian, age 11
Most importantly is the training, training, training. All kinds of exercise, like swimming, boxing, badminton, tennis, jogging. It's good for your shape. Remember, you must exercise! Exercise and you keep in shape!
4
Enter the Viper
Do you ever get scared doing a stunt?
Ernie, age 9
Yes, of course. Every time when I'm doing a stunt, my heart just starts beating, boom boom! Chasing, jumping over the building across the motorcycle, into the car, outside the car, in wide shot! - [Pants] - I'm crazy, but I'm not stupid. I know how far I can jump, how high I can go - Boom boom, boom boom - Of course I'm afraid, I'm not Superman. I just like to do it; especially in the theatre when the audience, "Yeah!" Everything is worth it.
5
Shell Game
Do you like to watch television?
Alexis, age 9
Yes, I learn so many things on television! Even my English, I learnt from TV. I like educational channels. Even from cartoons I can lean something. I love TV. When I'm only in Hong Kong, I can watch what's going on in America, what's going on in South Africa and Europe, everywhere, and really learn a lot of things I didn't know before. Even training I watch on TV. TV is my teacher. I love TV!
6
Project A, for Astral
Who do you admire and why?
Audrey, age 11
Oh, so many people I admire! Steven Spielberg, George Lucas, these people have talent. They can use the computer, special effects, not follow the traditional like me, you know, I hurt myself jumping off and onto a real car; they can use the fake people, and they can use a dinosaur! Just two patterns, do, do, do... When I look at those kinds of people, they really, they're those kinds of people I really admire. Wow!
7
Bullies
What did you want to be when you were young?
Ryan, age 11
When I was a kid? When I was a kid, I wanted to be a rich man, and then I wanted to be a hero; a fireman, a policeman, and sometimes I wanted to be a president. All kinds of things I know in the real life I cannot be, so this is why now I really like to be a movie star. Why? Because I can do whatever I like to do in the movie, just by being myself.
8
Tough Break
Have you been seriously hurt doing your own stunts?
Thomas, age 5
Yes, so many times. My eyes, my face, shoulder, nose three times, elbow, elbow - I cannot remember - my jaws, knees, knees, cut, ankle, ankle, all my teeth gone, I hurt... I cannot remember. I cannot remember, but most importantly, you remember, don't do any dangerous stunts at home, only in the movies!
9
The Rock
Do you have a favorite color?
Jill, age 8
My favorite color... white. Blue, light blue. Green, is good. When I look at the sky, all blue, all white, so beautiful. Sometimes when in a movie, I'm wearing a red, pink, and purple; I don't like that. Mostly I like white. White makes you like calm, gentleman, nice person, and handsome.
10
The Jade Monkey
Do you have any pets?
Pamela, age 8
I love pets! Very, very good for the human! It's your partner, it's your friend. If you have a pet you have to be with him every day. I remember, long time ago I had three St. Bernards, big dogs! I love big ones! The problem is, all those years I'd been travelling around making movies. Six months later, when I'm coming back, I said "Mwah, mwah, mwah." He bites me! He doesn't listen to me anymore! So it's no good, but later on when I retire and settle down, yes.
11
The Dog and Piggy Show
Do you know how to cook? (1)
Lyra, age 4
Yes! I know how to cook with eggs, and also a lot of fruits, and water, and juice, and noddles. Anything quick. Scrambled eggs, sunny side up, and I can cook toast and all kinds of eggs. Actually, I'm a terrible cook, but I love to eat. If you ask me, that's my answer.
12
The Tiger and the Pussycat
What's your favorite junk food?
Gabriel, age 8
My favorite junk food? My favorite junk food... Ice cream! Yum yummy! I love ice cream! Chocolate, vanilla, strawberry... That's all, most I like is ice cream. But after I eat ice cream today... jogging, more punching, more kicking! Let's go to eat some ice cream!
13
Day of the Dragon
Do you think you'll act for the rest of your life?
Yee-Shyen, age 10
I know I cannot always be in front of the screen, but I can be a director, a producer, help the people help editing all their action scenes, a writer, and some other things I really don't know. The only thing I know is film. I will be in the film industry all my life.
14
Through the Rabbit Hole
Were you cool when you were a kid?
Jeremy, age 9
All the kids in the school, they didn't like me. I remember we were testing the skill in the school; one by one we'd do a summersault, do different tricks, to pass the test. They all pushed me, they go first, they go first, I'm the last one! What am I going to do? Everybody would do a summersault, I'd go out and do one summersault and go like this. That low. My nose just touched the ground. Then the teacher, "Ah, good!" So I think I'm cool.
15
The Warrior Incarnate
Do you collect anything?
Unknown
I collect a lot of miniatures. My secretary put my little picture inside. Do you see that? I was in Russia, and the big lock behind my shoulder pad held. When I was walking it was like this, because it is like really, really heavy. Right now I am hoarding one thousand cup and saucers. I'm a pretty funny person and I collect a lot of funny things.
16
Snake Hunt
Have you ever worked with any dangerous animals? (1)
Dina, age 12
Oh, Lion! Lion! Yes, in Africa. Small, small lion, and I picked up the lion, "Awww" but the native, "Ahhh!" and I say, "What, what?", but the mom had come behind me. Then I ran and climbed up to the tree. The lion almost touched my feet! Remember, lions can climb up to the tree!
17
The Mother of All Battles
What's your favorite kind of music?
Adam, age 12
I like a rap song because it makes me, like... when I'm training, I like this kind of music. Celine Dion, Mariah Carey, Whitney Houston... I really can hear what she is saying, then I can practice my English. So many... The Bee Gees, Carpenters, ABBA... The Beatles? No. I'm too young!
18
The Stronger Evil
If you could have any of the talismans, which one would you have?
Brad, age 12
Not just one, I think literally everything. Yeah, I want to fly, I want to be fast, I want to be invincible. If I really can have all the talismans, wow, you can imagine... wow many things I can do. And then I can save the whole world.
19
The J-Team
Do you watch your cartoon series?
Qualye, age 11
Of course! Of course, definitely, yes. I have to watch every episode. It's just like one of my movies. When I want to make a movie, I want everybody to understand what I'm doing, what I'm saying. I want to make sure the cartoon is me, and also the cartoon is good for the kids, nothing wrong, is always good things, yeah.
20
Jade Times Jade
Have you ever refused to do a stunt?
Jennifer, age 11
Yes. When I design a stunt, I'm thinking, "Yes, I can do it." I'm supposed to go out the window, on the roof, boom! Land on the car with all the luggage, then I slide down, then open the door, go to the car, in one shot! Then you can see! I like to do these kinds of things. If there's something I cannot do it's to fly over the Grand Canyon. No, I'm not going to do that!
21
The Curse of El Chupacabra
Who was your role model?
Zach, age 10
When I was young, of course, some of my teachers, who I just think they are great. But later on when I'm growing up, when I'm making movies, then I find out my role models are Charlie Chaplin, Harold Lloyd, Buster Keaton... how difficult it is for them to make a movie, because in that day, silent movies without all the special effects, without all the protection, they still do a great stunt. That's my role model. One day, I want to be there. Anybody is better than me. That's my role model.
22
Rumble in the Big House
If you could be any animal, which animal would you be?
Johnathon, age 12
I want to be an eagle! I remember, I had an eagle about this big. Way up to look down, nobody can chase you. Very free, you know, wherever I want to go. I think eagle, yes, that's the best animal I'd want to be.
23
Lost City of the Muntabs
If you could have any wish in the world, what would you wish for?
Anam, age 10
Peace. We already have so many natural problems... earthquakes, tornadoes, hunger; they have killed so many people. So much fighting going on... We don't need a human problem, really. I really wish for peace.
24
And He Does His Own Stunts
Have you ever met anyone famous?
Elizabeth, age 8
One year I was doing an Oscar, I was standing in the green room. There were so many big stars in the green room! I saw... wow, John Travolta! Tom Hanks! Oh my god, Sidney Poitier! I don't know, "What should I say?" Suddenly, there's a voice: "Jackie Chan, can I shake your hand?" I turn around; Robin Williams! He said: "Jackie, I'm a big fan of yours. You are great." That makes me proud.
25
Showdown in the Old West
What's your Chinese name?
Nicole, age 9
My real, real, real name is called Fong Si-lung. In the school, in Australia, they asked me, "What's your name?" I said, "My name is Chan Kong-sang." ... "No, no, no, no... Okay, you're name is Steven." Yeah, I became a Steven. In the factory, the building builder asked me what's my name; my friends said Jack. Then, after I know a little bit of English, then Jackie. I think, I like the rythm; Jackie!
26
Queen of the Shadowkhan
What kind of books do you like to read?
Luis, age 12
I like mystery, comedy... everything. All can help me, for the location scout. Different picture, wow! I like boot magazine and the educational magazines. I can really learn a lot of things. It really helps me.
27
Origami
Where did you grow up? (1)
Bryan, age 11
I grew up in Hong Kong, in an apartment with the French embassy. My father was a cook, my mother was a maid, so when I was young I spoke perfect French. The ambassador, she's very good, she loved me, playing with her children ...except when I slept, "Back to, back to behind the kitchen."
28
Shanghai Moon
If you weren't an actor, what would you be?
Mark, age 7
I want to be a pilot. I'd just feel so cool! Nothing cooler than a pilot! Carrying the helmet, wearing the suit, walking in slow motion... The jet behind you with the glasses. Just by yourself, go to a place nobody knows, you know. Oh, I just... I want to be a pilot!
29
The Lotus Temple
Where did you grow up? (2)
Bryan, age 11
After my father afforded a living, he had to go to the Australia-American embassy. As soon as my father moved, then I had nowhere to live, so they put me to the martial opera school. Inside, it was just like the movie called Fame. One thing is different, we have to stay there, we live there, eat there... Teach you how to dance, how to kick and punch, summersault, acrobatics, all kinds of things! School is very, very important; education is very, very important.
30
Armor of the Gods
How many hours a day do you work out?
Rosemary, age 6
It really depends. If I'm filming for a whole day, at least an hour a day. Nothing to shoot for the next couple of days? Then at least three hours a day. After you've been training so hard, okay, I have to watch my diet. Nothing is more important than health.
31
Agent Tag
Did you ever work with Bruce Lee?
Jordan, age 7
Yes! There's a scene, I remember, there's a scene, he was holding two sticks, he comes in and he just gives me one stick, then I fall down and he just... He hit his one stick right on here, it was this big with all the bruise going on. After the cut, he turned around and just, "Ohh, I'm sorry! Sorry! What's your name?" And I go, "My name is Jackie.", "Oh, I'm sorry.", "That's okay, fine, fine. You know, I'm a stunt guy." Suddenly the stunt coordinator, "Jackie, you continue for twenty four hours shooting." I know it was Bruce Lee who had ordered, especially ordered, "I want that guy."
32
Tale of the Demon Tail
What do you like to put on your pizza?
Joe, age 11
Only one kind... pepperoni, double pepperoni! Very thin cut, and well, well done, and very hot. That's all, yeah.
33
The Return of the Pussycat
What kind of movies do you like?
Nicole, age 9
When I was young, I only liked one kind of movie: Action. But now I've become a film maker, I like drama, I like American films, Indian films, Iranian and Iraqi films, German films... I have to look at every film, what are the bad things, what are the good things... I have to know. There are so many good directors around the world who just haven't been introduced. If you like movies, you should watch every film; cheap film, expensive film, any kind of film.
34
Scouts Honor
Do you know how to cook? (2)
Dina, age 12
My father is a big cook! My father was a chef, but his son is the worst! I even don't know how to cook rice. People tell me with the rice machine, you put some rice in... I broke the machine! If somebody gives me rice, already cooked, then I can put some oil, with some pepper... only that one, Jackie Chan fried rice.
35
Danger in the Deep Freeze
Do you miss your family when you're off making movies?
Lizzy, age 8
My business is very, very difficult. Because I'm so busy... location scout, training, rehearsal... The camera is rolling. The only thing I know is comedy, action, great stunt, great action. Sometimes when I'm off camera, I take a break, then I do reach my family. But what can I do? Travel, travel, travel, travel...
36
Into the Mouth of Evil
Where do you get your ideas for your stunts?
Sydney, age 5
So many years I've been doing action films... I really like to school myself, study every movie, every... Bruce Lee film, Stallone film, everyone and everybody! I've been thinking, punching and kicking are all the same, sometimes they're just boring. The props really help me a lot. Situation, props, different country, different culture, different background; they all help me, they all help me to doing a stunt.
37
The King and Jade
Is it hard to be a celebrity?
Eric, age 11
You get a lot of things, you lose a lot of things. One day I sat down in a shopping mall coffee shop. My friend said, "I saw somebody who wanted your autograph." As soon as I sign... Two hours, I just keep signing, keep signing... I really don't have a private life anymore. There are good things, really, I can get a lot of free gifts. Somebody gave me some running shoes and said, "Can I have another hundred here?" Somebody gave me some exercise equipment, "Can I have another couple secs?" Then I select which high school, which charity... I just give. That's the best thing about becoming famous!
38
The New Atlantis
Are you a good swimmer?
Robert, age 7
No, I'm... I'm very bad at it! I do swim in the private pool. First time I went to the deep sea, you know, on the boat outside, when we stopped we had to get to the beach, everybody jumped, one by one they jumped, and when they jumped I jumped! I jumped out but I come back up, "Augh!" I'm scared about swimming!
39
The Eighth Door
Do you play any instruments?
Seabrook, age 11
Yes, I do! Harmonica, when I was very, very young. And also I know how to play Chinese guitar ...but now I forget. But I do, I do sing. Yeah, actually I'm a pretty good singer.
40
Demon World (Part 1)
How many languages do you speak?
Serena, age 7
Oh... Cantonese: Lay ho ma. Mandarin: Ni hao ma. Shandong: Ni har. Shanghai: Nong ho va. Thai: Sa-baai-dii mai khrap. Very good, Korean. Okay, English: How are you? Japanese, of course: Ogenkidesuka. Spanish: Cómo estás. Moroccan: As-salamu alaykum-salam. Russian: Nyet pro-blyem. Ah... what, what happened!!? Now I'm mixed up!
41
Demon World (Part 2)
What kinds of martial arts do you know?
Laura, age 16
So many, so many styles! If you're talking about martial arts, a thousand! Most importantly, whatever you learn, it doesn't matter, karate, hapkido, krav maga, whatever... but everyone has the same goal, which is discipline; it's not fighting. Remember.
42
Enter the Cat
What did you study at the Chinese opera?
Chris, age 12
At the beginning, the teacher really didn't know what I was good for. I did everything, kicking, punching... all kind of things. Suddenly, they find out I have a very pretty good voice. After that, when the opera wasn't famous anymore, then I got back to training. Almost for a whole day, nonstop training! Until eleven or twelve o'clock. When I take off my shoes... eww, they stink!
43
Pleasure Cruise
What do you do on rainy days?
Robert, age 7
Actually, I will drive my car, especially at night, in the middle of the night, like at three o'clock, four o'clock... just by myself. I like the rain, you know. Then I stop somewhere around beside a highway, have my sunroof with all the glass on the top, I just... listen to music, listen to the rain. It's really, really, really relaxing.
44
Tough Luck
What's the hardest thing you've ever had to do?
Hunter, age 13
Typing, communication with email, internet... If anybody writes to be, even in Chinese, I don't know how to type! What can I do!!? Some other things are easy! Stunts, rolling, action, I can do it! I just don't know how to type!
45
The Chosen One
Are the characters in your show based on people you know?
Justin, age 12
I think yes. When I look at Uncle, the way he speaks ...half like my father, half like my manager. Jade, yes; so many young girls are like a niece. Of course, not the bad guys, the Shadowkhan... you make somebody up. Tohru, one of my stunt guys. The character, myself; sometimes very comedic, sometimes very serious... it's me!
46
Glove Story
Have you ever been bullied?
Andrew, age 11
When I was very, very young, yes. What I don't like about being bullied is when I have to beat someone. Okay, what happens? I win. But one day I'm going to lose. After that, after I get hurt, if somebody is bullying me I'm just, "Yes, yes." Why? Because this guy will get beaten by somebody one day. There are so many tough guys in the world; they'll get in trouble some day. Don't try to be a tough guy.
47
The Chan Who Knew Too Much
How do you keep up with all your work?
Wonmoo, age 12
I love movies, I love my work. The things just keep coming, keep coming, keep coming. We have, I don't know... how many restaurants in China, Hong Kong, in Japan... I have a camera team, I have my stunt team, I have to work on so many scripts, four movies that are being filmed, ideas... So many things, so many projects... Yes, I'm sometimes tired, but I'm happy.
48
Chi of the Vampire
Why is it so important to be defensive, rather than offensive?
David, age 13
On the bus, when somebody comes to grab you, always defense! When they touch you, you just... turn, turn, you know... protect. Everything is about protection. It's better than fighting somebody, because for one small argument and you hurt somebody, you can never be happy in your whole life. So just watch in my movies, you can see there is a lot of protective things. In real life, defense is better than to hit somebody. Remember, yeah.
49
The Good, the Bad, the Blind, the Deaf and the Mute
How high can you jump?
Cody, age 10
After I'd broken my ankle, and also I'd broken my toes; right now I cannot bend my toes, and I lost a lot of, you know... bouncing things. So this is why when I'm making a movie, I know my own problems, my broken ankle, my knees get hurt because of the injuries, so this is why when I run, it's like, running, running, maybe one step onto the chair, then I jump onto other things. But I'm fine, I still can... still do the things, bouncing, bouncing bouncing!
50
Shrink Rap
What's your favorite sport?
Steven, age 11
Basketball is the best! When you're sweating, and your technique is good, and movement, and the mind, and... last second, "What are you doing?", "Okay!" Back up, that's basketball! Wow! Hah! I can beat Michael Jordan, maybe, I don't know... with my martial arts together! Pow!
51
I'll Be a Monkey's Puppet
What's your favorite fruit?
Ian, age 11
I love fruit, every morning I get fresh fruit. Pineapple, papaya, a lot of papaya! Banana, very good for the stomach, good for digestion, good for everything; banana is good. Have you ever seen a fat monkey!!?
52
The Amazing T-Girl
How many hours a day do you work out?
Jessica, age 12
Basically when training with my stunt guys, with my students, three hours a day. Lift weights; fast! Badminton is good, almost nonstop! Ping-pong, move your whole body! Also boxing, the rhythm! Bam! Bam! Bam! Bam! ... Training is very important, yes.
53
Re-Enter the J-Team
What is wushu?
Carly, age 7
It's like an art! It's like dancing! Like me, when I'm playing badminton; it's... you're doing these kinds of things. You have your own style. You learn something from me, okay, but later on you must have your own style. Yeah.
54
The Powers Unleashed
What do you do to stay in shape?
Allysa, age 11
Basically when training with my stunt guys, with my students, three hours a day. Lift weights; fast! Badminton is good, almost nonstop! Ping-pong, move your whole body! Also boxing, the rhythm! Bam! Bam! Bam! Bam! ... Training is very important, yes.
55
Viva Las Jackies
Do you play video games?
Bruce, age 8
I really love all kinds of video games. Okay, I play Tetris. When people come to talk to me, I just keep playing. One day I dreamed my head wouldn't fit into any hole! I get up, and I took my video game away. It's bad.
56
Aztec Rat Race
Have you played any extreme sports?
Edison, age 7
When I'm filming everyday, I always do the dangerous things, dangerous things. Even when I get hurt, you can see it on the screen. Some of my friends, they went skiing; coming back with one broken leg, one broken arm. When I'm on holiday, I never do these types of things. On the screen, I do everything.
57
Monkey a Go-Go
Was it hard to learn English?
Myra, age 9
Yes! Very, very difficult! I learnt from TV, news and documentaries. Word by word, it was just like in pieces. Now I know perfect Cantonese, of course, my normal language ...Mandarin, Chinese, Japanese, okay English, Korean, Japanese... You have to know more, not just one language, one is not enough. You have to learn a second language. You'll be proud of yourself. Remember, learn more languages.
58
When Pigs Fly
What do you do with your free time?
José, age 12
In my free time... I don't really have a lot of free time. I'd rather stay in the office. I call up all the script writers, I watch a lot of DVDs, training, meetings, editing... Do I have free time?
59
Rabbit Run
How many push-ups do you do a day?
Donnell, age 7
There's a lot of things to train; push-ups, sit-ups, kicking, punching, thirty each, for six times. It's not a joke, I can do a thousand push-ups, then after you've done a thousand push-ups, you're gone! You cannot do anything!
60
Sheep In, Sheep Out
What's your favorite dessert?
Jenny, age 10
Ice cream with tiramisu! I eat everything! I eat all junk food! Ice cream! Tiramisu! Ice cream! Tiramisu! But most importantly, exercise! Exercise, and you can beat all the calories, all the bad food!
61
The Invisible Mom
Did you do well in school?
Kassidy, age 6
Kind of... I'd been a very bad boy. I didn't want to get up in the morning. Later on, later on, the teacher had been training me to become very disciplined; get up, five o'clock in the morning, training, training, training... I worked very hard every day, but eventually I became pretty good.
62
A Jolly J-Team X-Mas
What's your favorite food? (1)
Riley, age 7
I eat everything! I always tell people, "Try it before you don't like it." You have to try the food! "Uh, what's that!!? It smells! It stinks!" I say, "It's not polite. Eat first.", "Oh, that's not good for me. Okay." For me, I eat everything, yeah.
63
Little Valmont, Big Jade
Do you like to ride horses?
Angus, age 8
Yes. The horse is good. I just don't know how they can train them. This is not a horse anymore, it is like a dog! He just follows where I want to go; I run, he runs, I stop, he stops... I wish I had one of these kinds of horses. But now I'm kind of... not professional, I'm pretty good now.
64
The Ox-Head Incident
How do you control your anger?
Nelson, age 10
I always forgive somebody. But when I was young, no, "I'm not going to do it!" They're on me, I'm on them back. The whole day... "This guy! This..." No! Right now I just forgive. I really can control my anger.
65
Animal Crackers
Have you ever worked with any dangerous animals? (2)
Kellen, age 12
Oh, yes, I remember when I was making movies. There was a leopard. Every time, "Grrr!" He tried to attack me! That was scary! Then I remember the animal really can recognize the people. Not everybody, except me! Only me! I don't know why, every time the leopard saw me he attacked me!
66
Tohru Who?
What's your favorite food? (2)
Linnea, age 7
Anything fast! I really don't like to sit there, with twelve people sitting there and they give you soup, you have to wait, twelve people all having soup. The soup is already cold! I like everything quick; done!
67
Re-Enter the Dragon
Where do you like to go in Hong Kong?
Richie, age 5
If my friends are coming to Hong Kong, the only few places I can take them are either my restaurant, across Hong Kong side, harbour, really beautiful at night time, and also the mountains. Hong Kong is a very, very beautiful place.
68
A Night at the Opera
Where did you live when you were little?
Cheryl, age 8
My father put me to the martial opera school. One thing is different, we have to stay there, live there, eat there... So many different teachers; teach you how to dance, kick and punch, acrobatics, all kinds of things! School is very, very important.
69
Attack of the J-Clones
Are you afraid of the dark?
Eric, age 13
Yes, and no. Like sometimes when I'm walking in a very dark place and somebody is just telling a ghost story. As long as I'm not doing bad things, always helping people. Wherever I go, I don't get scared of the dark anymore.
70
The Masks of the Shadowkhan
Do you ever get tired of travelling all over the world?
Jessy, age 18
Yeah, I do get tired of travelling around the world. I've been... the last twenty years I've been travel, travel, travel... One day I want to settle down, have my own studio, just shoot everything in the same place, then I don't have to travel anymore. But, put another way, travel is good, you learn so many things, different cultures, different cities... Everything is different, yeah, that's the good thing.
71
Samurai Ratso
Do you play baseball?
Brett, age 13
Of course I like baseball. You know what? I'm the honorable chairman baseball captain in Hong Kong. I do play baseball, but I'm... actually I'm not really good because when I look at the TV it's just easy, but when you really try to hit it is difficult. I love baseball.
72
The Amazing T-Troop
If you could be a dinosaur, which kind would you be?
Logan, age 4
If I were a dinosaur, I would be a Brontosaurus; because big, but only eat vegetables. Nobody can touch him, not even the T-Rex. The T-Rex, too violent. And... yeah, I want to be a Brontosaurus. Ah, difficult!
73
Black Magic
Have you ever had a disagreement with a good friend?
Evan, age 9
There's so many, so many times that happened. Either one, you have to call, "Hey, are you angry about me?" If I did something wrong, I say, "Sorry." Because, it is very hard to make a friend, a good friend. When you have a good friend, never... I would never let go. Besides, parents are important, friends are also important. All those years I traveled to so many places, the friends helped me. So friendship, friendship is very, very important.
74
The Demon Behind
Do you like to eat raw fish?
Benjamin, age 5
Yeah, raw fish, yes I do. When I eat Japanese food, and the sushi, I do eat raw fish, but I have to put a lot of wasabi. Sometimes I ask myself, "Do I like raw fish or wasabi?" I don't know. But if you give me raw fish, I don't like it. But with wasabi, yes, I like raw fish.
75
Fright Fight Night
Do you like scary movies?
Myles, age 9
Scary movies, yes. Actually, because I'm a filmmaker, I like scary movies, drama, comedy, action... But when I watch a scary movie, not at night time, you know, really, after you're watching, you go to sleep, you can't sleep. So, comedy at night, daytime scary.
76
Half a Mask of Kung-Fu
When did you start training in martial arts?
Jake, age 9
I... training in martial arts when I was six and a half. Ten years southern style, then after that, I learned northern style, then after that, I learned so many different styles, like hapkido, taekwondo, judo, karate, and... so many things. Then later on I find out that everything's the same, that the whole thing is martial arts, but just the title is different, yeah.
77
The Shadow Eaters
If you could have a super power, what would it be?
Joe & Matt, ages 10 and 7
If I had a super power, I can stop everything like, freeze! Then, after I fix everything, continue. Yeah, like tornado coming in, freeze! Then I'll tell people, "Hey, run away.", "Okay.", "Keep coming." And... yes, I'd really like to have this kind of power.
78
The Good Guys
Do you believe in giving people second chances?
Emma, age 10
Yes, yes. I always give people a second chance. Like, my stunt men, some of my assistants... they do something wrong, I give them another chance. They do something wrong again, I give them a third chance, not just a second chance. I always give them a second chance, more than a second!
79
Deja Vu
Do you believe fortune tellers can predict the future?
Darby Ava, age 14
Uh... I— actually I don't believe that. I only believe myself. Work hard, learn more, helping people, always give people a second chance, then you have a good future. That's what I believe.
80
J2: Rise of the Dragons
How do you celebrate Chinese New Year?
Lulu, age 8
We do a celebration. Everybody wears red. Everything's all, new socks, new shoes, new T-shirt... everything's new. I will book the hotel with all my stuff together, sing karaoke, play a little board game, and I will give a red envelope; we have, like, a Chinese tradition, with a red envelope, put some money in it, then I will say, "Gong Hei Fat Choy." It's, "Happy New Year.", traditional Chinese New Year.
81
The J-Tots
What's your favorite museum in the world?
Cody, age 7
There's only two museums I really remember; one is in Paris ...there's so much art, I saw the Mona Lisa, but there's one museum that's very interesting, the Egypt Museum ...a lot of mummies, a lot of different interesting things. It's really, totally different than in Paris, the museum.
82
Ninja Twilight
Do you ever go fishing?
Jordan, age 5
Very, very little chance. I never go, like, call my friends, "Let's go fish today! Holiday!" Never. Only when we are on the filming, on the boat. Then I fish, a little bit. I... I'm not this kind of person. First, I hate water. Why? Because I get seasick when I'm on the boat. Besides, I don't like to spend so much time to waiting, waiting... I'd rather... training. But I do go, but little time.
83
Relics of Demon Past
In your own words, what is chi?
Crysta, age 8
Everything about chi is about... [Exhales] You're doing this kind of... Hah! Hah! Hah! Hahahaha! Hei! Huhuhuhuhu! Hei! Huhuhuhuhu! Hahahaha! Heh! Heh! Heh! Hehehehe! Hei! Hmmhmmhmmhmmhmm! Hahahahahaha! ...Hmm.
84
It's All in the Game
What was your favorite thing about being a kid?
Mackenzie, age 6
Being a kid? Sometimes when I look at a kid, I realize, "What are you thinking?" They haven't... they are not worried about paying the bills, the car bills, the house, the mortgage... Sometimes I really want to... yes, I want to go back, boom, become a small baby; I don't want to worry too much or what kind of stunt I'm going to do, what kind of action sequence... I have to choreograph all action sequences, that sometimes really makes me worry. That's what's good about children.
85
Black and White and Chi All Over
Is there a yin and yang to your personality?
Marissa, age 8
Yin and yang... I think everybody has a yin and yang. Yin and Yang, sometimes I feel I'm very strong, but sometimes I do feel I'm very weak. In my body, the yang always wants to beat the yin. Sometimes when I'm doing a stunt, this side tells me, "Ah, dangerous.", but another side tells me, "No, you can do it." So, this is why... I do have a yin and yang, yes.
86
Dragon Scouts
Did you have any bad jobs before you became an actor?
Erika, age 15
After the ten years of martial arts school, I went to Australia. I did construction work, I cleaned the buildings, cement, paint the wall... At night, I was doing... kitchen, learning how to cook. I don't think these are bad jobs. If I'm continuing to learn, I'm becoming like a professional, there's no bad jobs!
87
The Demon Beneath My Wings
Have you ever dressed up for a costume party, or on Halloween?
Jeannette, age 11
When I was very young, yes, I did wear a cowboy costume, this kind... But when I got into the film business, never. Why? Because every day I'm on the set, dressed as different people; I'm dressed like an old man, young man, girl, old lady, musician, you know, vampire... I've dressed up as everything already!
88
Mirror, Mirror
Did you have any imaginary friends as a child?
Brenna, age 5
Actually, I didn't. Especially when I was in the school, where we had like a hundred students; we sleep together, we eat together, we play, we train together... So, I actually don't, because of so many martial artists; sisters and brothers.
89
Antler Action
What do you do to relax?
Dylan, age 11
When I relax, I have, like... a loft, and I call up some friends; we sit down, listen to music, watch TV, yeah, because from TV I can learn so many things.
90
Clash of the Titanics
Do you like to surf the web?
Irene, age 10
I want to surf something I want to surf. I'm not like... how do you say, surf the whole day. Most— a lot of people just... nothing to do, surf, surf... No, I just surf one thing, the things I want to know, I surf, then after that I leave.
91
Stealing Thunder
Do you like riding roller coasters?
Benjamin, age 9
I do like these kinds of exciting games. Roller coasters, you know, airplanes, you know, everything high, fast... If it makes my blood go fast, then I like it! And... I don't know why I like these kinds of things.
92
Weight and See
Have you ever flown a plane?
Jett, age 7
Actually, I did! Not the commercial one, of course, the private jet; when the pilot and the co-pilot let me drive. I'd really like to learn helicopter!
93
J2 Revised
Do you ever wish you could see into the future?
Vivienne, age 13
Oh, yes. I really hope I can have this kind of power, I can see the future, I can predict what happens, then I can... I believe I can save a lot of people.
94
The Powers That Be (Part 1)
What's the most embarrassing thing that's ever happened to you?
Noah, age 12
Oh, I remember... There was, almost... twenty-something years ago, I was doing a difficult shot, I was doing... how do you say, one, two, three, four, five, six... you know, so many takes ...and sweating. After the shot, I went to go in the cold water; I take off my shirt, I tried to take off my pants, but my pants stick to my underwear! My underwear is gone! That's the most embarrassing!
95
The Powers That Be (Part 2)
Have you ever worked with a crocodile?
Carson, age 7
Never. That, I've never done in my life. I've touched rhinos, lions, elephants, yeah; not a crocodile.